New Art Center to be Built at NTHU
On January 8 the naming ceremony was held for a new conference and art center at NTHU, to be named "Spring Hall" in honor of Hou-Wang Shu-zhau, the founder of the Spring Foundation and the honorary dean of the College of Arts.
The event opened with a stirring rendition of "Dedication" sung by students of the Department of Music, accompanied by a retrospective video on Mrs. Hou-Wang with a series of eulogistic lines written by the guests of honor using interactive technology, including "A leading patron of modern art in Taiwan," "A radiant person with a passion for life," and "An enthusiastic promotion of art education.""
President Hocheng said that the name "Spring Hall" perfectly reflects Hou-Wang's genial temperament, adding that he has a copy of her book A Dialogue between Reason and Perception in his car and reads it often. In this book she mentions her fondness for the boisterousness of spring, which for her symbolizes creativity and innovation.
Hocheng also said that he has been greatly inspired by Hou-Wang's artistic spirit, and he encouraged the entire Tsinghua community to follow her advice, "Be contemporary. Be creative."
Amongst the distinguished guests was Hou-Wang's eldest son and Spring Foundation chairman George Hou, who said that while growing up he often went to the Spring Gallery to look at the art and to have some fun. He explained that the idea of "spring" has been a major theme in his life, both as an artist and as the chairman of the Foundation when it began working together with NTHU in the area of arts education.
During the event former NTHU president Chen Lih-juann said that Hou-Wang was passionate about art and philanthropy, and took a "gentle yet unyielding" approach to the promotion of modern art in Taiwan, and the splendid art produced under her patronage is the legacy she has bequeathed to Taiwanese society, adding that, "the sounds of spring will soon grace the Spring Hall."
Also in attendance was Tung Ho Steel chairman Hou Jieteng, who said that many the top artists in Taiwan displayed their work at the Spring Gallery during the early stage of their careers, including Chu Ming and Dong Yangzi, and that his mother always made it a point to support young artists in various ways, and that she leveraged the success of the family steel business to enrich the cultural development of society.
Another highlight of the event was an impromptu rendition of the song "In Praise of Spring" by George Hou and dancer and vocalist Mia Hsieh, who accompanied their piece with a hang drum. Hsieh graduated from the Department of Foreign Languages in 2008, and said that when she was studying at NTHU there wasn't much happening on campus in the way of arts, and that she's delighted to see that the arts now feature quite prominently on NTHU campus.
The Spring Hall will be located on the South Campus between the TSMC Building and the College of Humanities and Social Sciences, and construction will begin in July. The basement will have a 350-seat auditorium which will host a variety of musical and theatrical performances.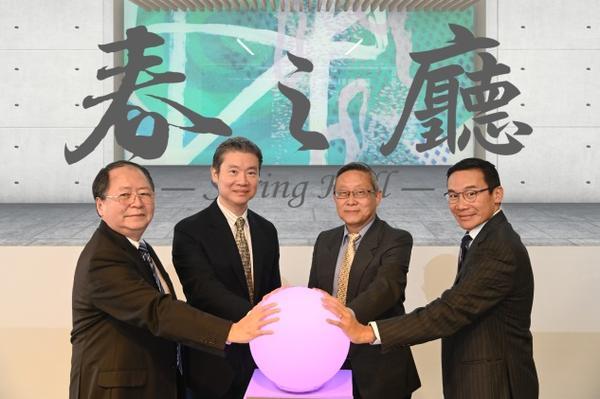 At the naming ceremony (right to left): Hou Jieteng, Hocheng Hong, George Hou, and Chen Lih-juann.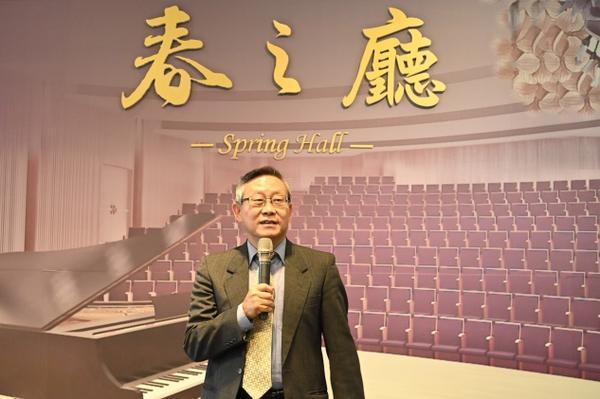 Hocheng said that NTHU is fast becoming a model of creativity and innovation.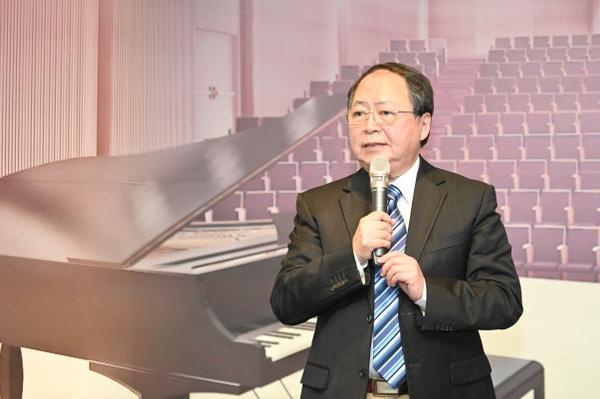 Chen Lih-juann said that the sounds of spring will soon grace the Spring Hall."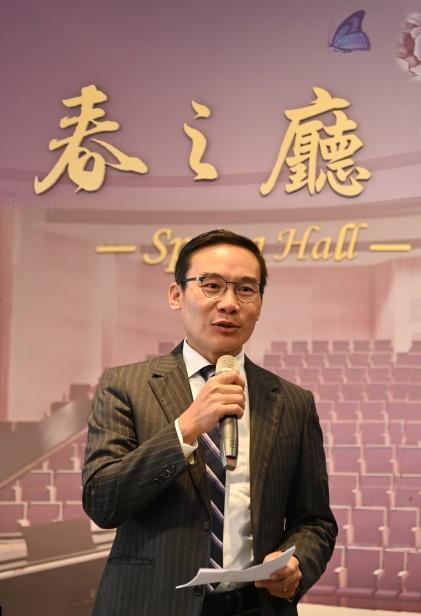 Hou Jieteng said that the cooperation of art and industry has enriched the cultural development in Taiwan.