Distance Learning Comes of Age
2019.12.26
In recent years NTHU has run numerous MOOCs (massive open online course) for the benefit of students at home and abroad, one of the most popular of which has been the Introduction to Calculus offered by Prof. Yan Dung-yung of the Department of Mathematics. Amongst the students in Yan's course was the 13-year-old Liu Che, who after completing the course got a perfect score in the calculus section of the Advanced Placement Exam held by the College Board in the United States. In her ongoing passion for pursuing advanced topics in mathematics, Liu has also visited NTHU to audit one of Yan's classes.
After completing his Ph.D. in mathematics at the University of Washington in the United States, Yan taught at the Institute of Mathematics at Johns Hopkins University before coming to NTHU. Although many college students studying science and engineering find calculus highly challenging, in Yan's view, "it's not that difficult, as long as you have a good teacher." His online calculus course usually attracts hundreds of students, yet he was surprised to learn that amongst them was a 13-year-old girl.
Liu's mother, Chen Meili, said that her daughter began her education with homeschooling, and then began to teach herself more advanced subjects by making extensive use of the plethora of internet resources that have become available in recent years.
Liu said that in May of last year she came across NTHU's MOOC website and decided to sign up for Yan's calculus course, and soon was delighted to discover that Yan also covers the theoretical aspects of calculus.
Mrs. Chen said with a smile that her daughter soon became so engrossed in Yan's calculus course that she sometimes watched the lectures late into the night with obvious relish, all the while writing calculus calculations on a whiteboard. When she had a question, she would post it online and the teaching assistant would soon provide the answer. Later, when Liu discovered that the video for the second half of the film was not open to the public, she wrote to NTHU's Center for Teaching and Learning Development, and Yan agreed to provide her with access to all the calculus video segments.
After completing the 43-hour online course, Liu passed the related exam and obtained a certificate. A few months later she got a perfect score in the calculus section of the Advanced Placement Exam held by the College Board in the United States.
In addition to NTHU's online calculus course, Liu has also completed several other online courses offered by top American universities, including Stanford's course in machine learning, Harvard's course in computer science, and MIT's course in computer science.
Chen also said that her daughter is fortunate to have made Yan's acquaintance. Last year Liu participated in a science program for high school students run by the Ministry of Education, and was assigned to the elementary cohort. During the introductory session she caught a glimpse of Yan, but was too shy to approach him and say hello. When applying to join the advanced section of the same course last year, it happened that some of her application documents relating to her online coursework at NTHU got misplaced, so she wrote to the school to request replacements. Yan was in charge of the case, and when he called Liu for more information, she immediately recognized his voice.
Liu, who is now 14 years old, is currently participating in the advanced stage of the science program for high school students run by the Ministry of Education. Amongst the 300 participants, between 10 and 15 will be selected for additional training in preparation for representing Taiwan in the International Mathematical Olympiad competition, and Yan expects that her participation will significantly enhance the team's performance.
NTHU's MOOC website OpenCourseWare (OCW; ) has been operating since 2008. Taught by teachers who have won the Outstanding Teaching Award, the courses are recorded in the classroom and made freely available on the internet. To date, the OCW has already run a total of 142 courses; the website has had 5.2 million visitors, who have clicked on course details 31 million times.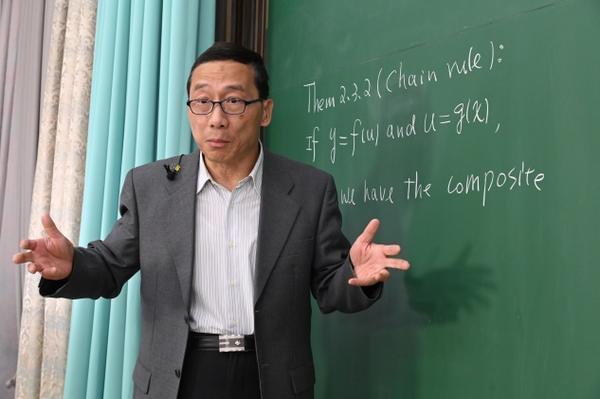 Prof. Yan's MOOC course Introduction to Calculus ran for two years.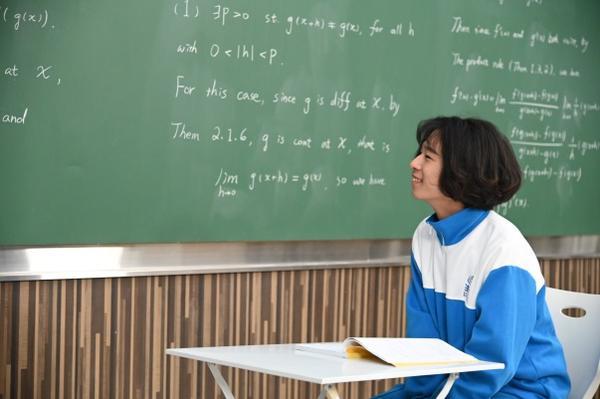 The self-taught Liu has a passion for calculus.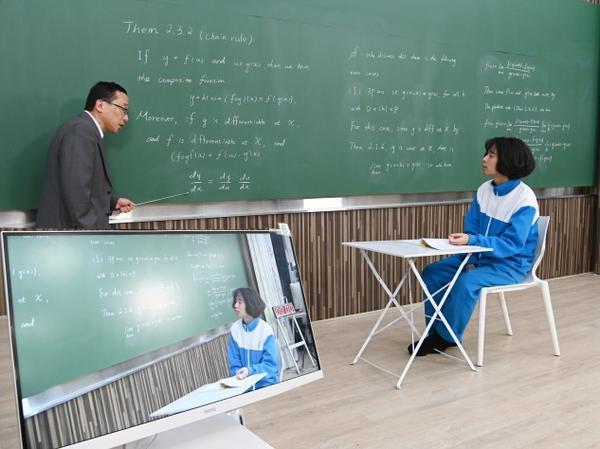 Yan (left) invited Liu to visit the studio during the filming of his online calculus course.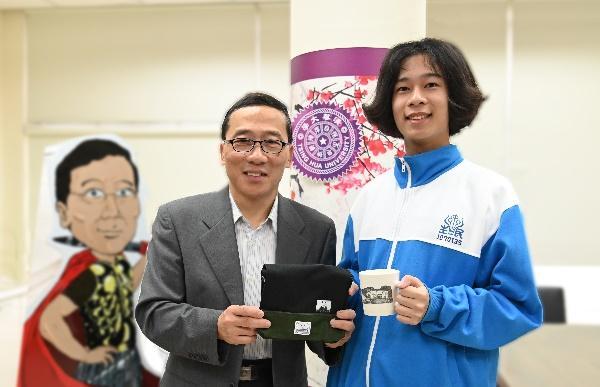 Yan (left) presenting Liu with NTHU souvenirs.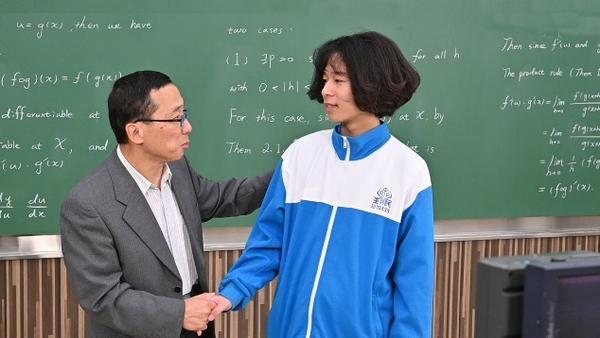 Yan (left) encouraging Liu to pursue her passion for calculus.