College of Science
A Brief History of the College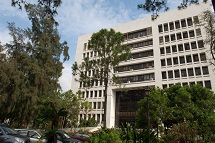 The College of Science includes the Departments of Mathematics, Physics and Chemistry, as well as the Institutes of Statistics and Astronomy. In addition, there is an Interdisciplinary Program of Sciences and a Science and Technology of Synchrotron Light Source M.S. and Ph.D. Programs supported by the College of Nuclear Science.
The College is a leading center of fundamental scientific research in Taiwan with strong international reputation. Several alumni have emerged as world famous scholars, including 1957 Physics Nobel Laureate C. N. Yang, 1986 Chemistry Nobel Laureate Y. T. Lee and Harvard Bill Gates Chair Professor H. T. Kung. Faculty members often receive major awards from the Ministry of Science and Technology and the Ministry of Education. The College is equipped with excellent libraries and research facilities. Many national research organizations are situated on or nearby the campus, including the National Synchrotron Radiation Research Center, National Center for High-Performance Computing, Hsinchu Science Park, National Space Organization, and Industrial Technology Research Institute. The National Center for Theoretical Sciences and the Physics Research Promotion Center of the Ministry of Science and Technology are also located on campus and have close interaction with the College.
The College provides balanced educational programs to enrich the students' experiences, so that the students are well-prepared for future professional career or academic research. Most departments also provide quality training for gifted high school students and the re-education of high school teachers.
Dean's Office
Dean LIU, Rai-Shung rsliu@mx.nthu.edu.tw
Vice Dean CHUAH, Meng-Kiat chuah@math.nthu.edu.tw
Secretary LIN, Mei-Hui mhlin@mx.nthu.edu.tw
Administrative Assistant KUNG, Hsiang-Jung hjkung@mx.nthu.edu.tw
Mailing Address:
No. 101, Section 2, Kuang-Fu Road, Hsinchu, Taiwan 30013, R.O.C.
College of Science, National Tsing Hua University
Phone: 886-3-5719039
Fax: 886-3-5723762
Departments/Institutes & Research Centers