A New Window of Opportunity Opens for CTM Students
2020.06.02
As part of its ongoing efforts to expand the international perspectives of its students, the College of Technology Management (CTM) has recently implemented the Overseas Learning Program to provide subsidies for students traveling abroad to engage in exchange programs, internships, international competitions, seminars, and volunteer programs. It is expected that the new program will double the number of CTM students traveling abroad to participate in such exchanges, the current rate of which is about 25 percent. The Program is being sponsored by ASMedia Technology, which has generously donated NT$5 million.
At the donation ceremony ASMedia general manager Lin Zhewei presented an oversize check to CTM dean Lin Che-chun.
Dean Lin said that good managers are born of experience, and require lots of emotional intelligence, sensitivity to context, and cultural refinement; thus the CTM teaches its students not only how to do things, but also interpersonal skills. Overseas experience is one of the best ways to learn and hone these kinds of skills. Lin once heard Taiwan Semiconductor Manufacturing Company (TSMC) chairman Morris Chang said that the main reason Taiwan lacks a first-class management school is its lack of world-class enterprises, and that top managers need to have an international outlook. These remarks convinced Lin of the importance of overseas experience.
The CTM currently consists of three departments, viz., Economics, Quantitative Finance, and an undergraduate interdisciplinary program; and five graduate institutes, viz., Service Science, Technology Management, Law for Science and Technology, Economics, and Quantitative Finance; plus five programs for professionals. All of the programs for professionals have an overseas component built into the curriculum, so practically all of their students spend some time overseas; as for the other departments and graduate institutes, the rate is between 10 and 30 percent.
However, CTM students do understand the importance of overseas experience. Last year, 81 CTM students applied for international exchange grants offered by NTHU—the largest number of applicants of any college—but due to limited resources, only about half of them received some support. Eager to give more students a chance to go abroad, the CTM began to solicit enterprises to help subsidize the cost of traveling abroad.
Dean Lin said that ASMedia's generous donation will allow many more CTM students to gain valuable overseas experience, which will come in handy later on, especially when working in an international setting.
When General Manager Lin learned about the Overseas Learning Program he immediately decided to support it, both as a way of affirming and encouraging academic excellence at NTHU, as well as a way of fulfilling ASMedia's social responsibilities.
General Manager Lin earned a master's degree in electrical engineering from the University of Missouri, where he learned that studying abroad brings not just professional skills, but also invaluable cross-cultural understanding and communication skills which have proven to be invaluable assets in managing an international business and interacting with foreigners.
General Manager Lin encouraged CTM students to apply for a grant and to take every opportunity to go abroad and "learn more than you'll ever learn from books."
Also attending the donation ceremony was President Hocheng Hong, who thanked ASMedia on behalf of the university and said that how some countries have dealt with the ongoing coronavirus pandemic more effectively than others demonstrates the importance of having an international outlook, adding that providing students with plenty of opportunities for overseas exchanges is something a first-rate university has to make a priority, as is being done by the CTM.
Department of Economics senior Luo Wenjun spent one semester last year as an exchange student at the Czech Technical University in Prague, and she was impressed by the campus culture where students are encouraged to ask questions, think independently, and actively engage in discussion with peers and teachers, both during and after class; Luo is now thinking about going abroad to study for a master's degree.
Luo also strongly encourages other students to take every opportunity to go abroad. In her case, her parents had to bear a considerable financial burden, but "the new travel grant program will make such opportunities accessible to lots more students," said Luo.
Institute of Technology Management student Huang Xiangyun spent summer vacation last year as an intern at an eco-friendly packaging company in Vietnam. She laughingly said that she used to be a "control freak," but during her internship she learned a lot about the value of flexibility and accommodation from the way her Vietnamese colleagues were able to effectively deal with a series of exigencies, including water cuts, power cuts, and a tense labor strike.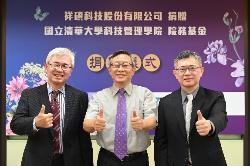 At the donation ceremony: ASMedia general manager Lin Zhewei (left), NTHU president Hocheng Hong (center), and CTM dean Lin Che-chun (right).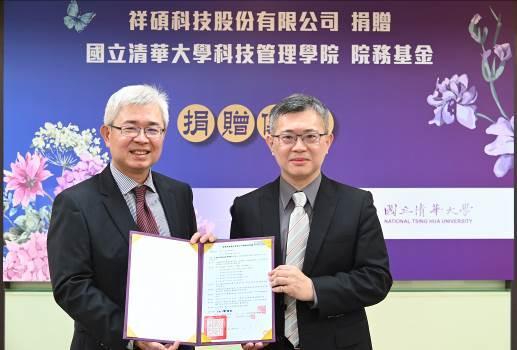 ASMedia general manager Lin Zhewei (left) and CTM dean Lin Che-chun (right) holding the donation agreement.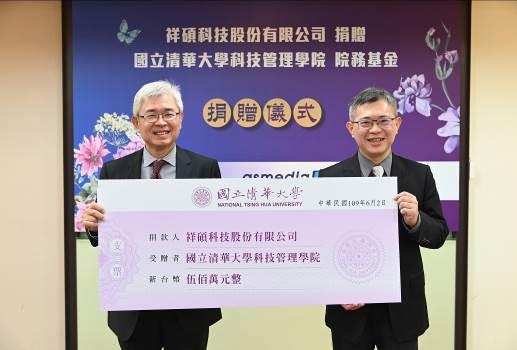 ASMedia general manager Lin Zhewei (left) and CTM dean Lin Che-chun (right) holding the oversize donation check.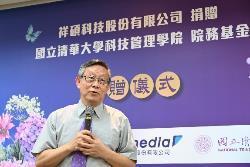 NTHU president Hocheng Hong emphasizing the importance of international experience.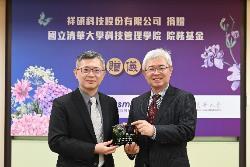 CTM dean Lin Che-chun (left) presenting ASMedia general manager Lin Zhewei (right) with a memento.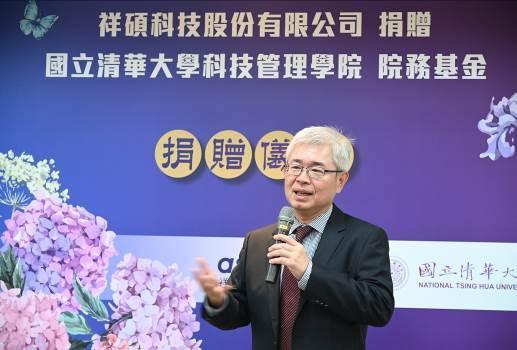 ASMedia general manager Lin Zhewei sharing his own experience of studying abroad.