NTHU Teams Up with Tri-Service General Hospital
2020.08.07
As a concerted effort to give increasing emphasis to education and research in the field of medical science, NTHU is preparing to launch three new programs—a post-baccalaureate in medicine, and doctoral programs in precision medicine and the biomedical applications of artificial intelligence (AI)—and is joining forces with Taoyuan City to establish the Tsinghua University Hospital. In addition, the University is planning to offer program combining medical science and technology which will be open to all undergraduates.
On July 27th, President Hocheng Hong and Tri-Service General Hospital superintendent Tsai Chien-Sung signed a memorandum of cooperation outlining an ambitious plan for jointly conducting biomedical research in such areas as medical engineering, smart medicine, and AI diagnosis. The alliance with Tri-Service is one part of NTHU's ongoing expansion in the medical field, which includes establishing a post-baccalaureate program in medicine and an affiliated hospital in Taoyuan, expected to begin receiving patients by 2027.
President Hocheng said that NTHU originally focused on science and engineering, afterwards gradually expanding into the humanities, social sciences, education, and the arts. In recent years, however, the focus of expansion has shifted to the fields of biomedicine and the medical sciences, hence the memorandum of cooperation with Tri-Service General Hospital.
President Hocheng said that recent developments in medicine are largely the result of increasing cooperation between the fields of science and engineering. For example, researchers at NTHU and Tri-Service General Hospital have recently teamed up to develop a reagent for use in a covid-19 rapid test kit, which provides results in about two minutes. The test kit has been sent to the US FDA and is being considered for emergency authorization.
Hocheng said that one of the areas NTHU and Tri-Service are considering for joint research is the further development of cancer treatment using the Boron Neutron Capture Therapy (BNCT) already developed at NTHU. He also indicated that NTHU's affiliation with the military goes back to the Sino-Japanese War, during which time some 40 Tsinghua alumni joined the war effort, the most famous of which was General Sun Li-jen. More recently, last year NTHU established the Military Science Group, an education center of Tsinghua College for training future officers set up in cooperation with the Ministry of National Defense.
Superintendent Tsai said that NTHU and Tri-Service have a long history of cooperation, and at one point a merger of the two was being considered, adding that this memorandum of cooperation will help to strengthen their joint efforts, especially in the areas of clinical medicine, teaching, and research fields.
Tsai said that NTHU is one of the top 100 universities in Asia, and has become internationally renowned for its research in the fields of science, engineering, and biomedicine. Moreover, the combination of Tri-Service's clinical experience and NTHU's expertise in biomedical research will make it possible to make major advances in such areas as precision medicine, high-throughput pathogen screening, ultra-analysis biomedical imaging, AI diagnosis, and new vaccines.
Tsai said that advances in medical technology are bringing about major improvements in medical treatment, and that biomedicine is currently one of the most important areas of medical research. What's more, he is looking forward to expanding the range of cooperation between NTHU and Tri-Service into additional areas of cutting-edge research.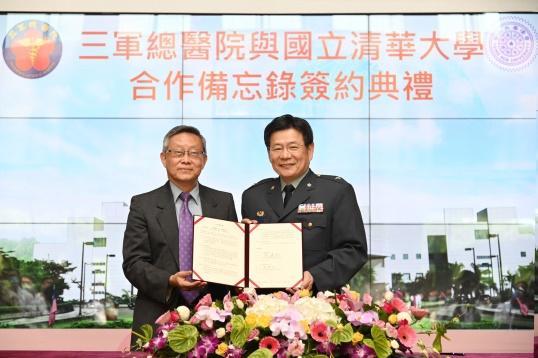 NTHU president Hocheng Hong (left) and Tri-Service General Hospital superintendent Tsai Chien-Sung displaying the memorandum of cooperation.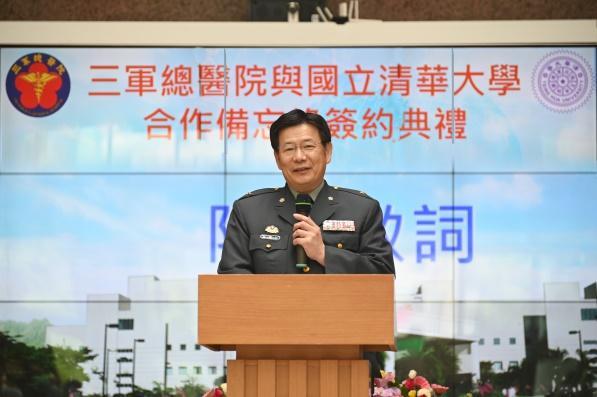 Tri-Service General Hospital superintendent Tsai Chien-Sung said that smart medicine is one of the areas covered in the memorandum.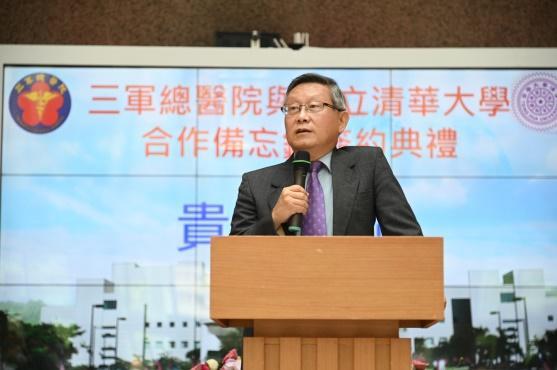 NTHU president Hocheng Hong presenting the plan for jointly conducting biomedical research with Tri-Service General Hospital.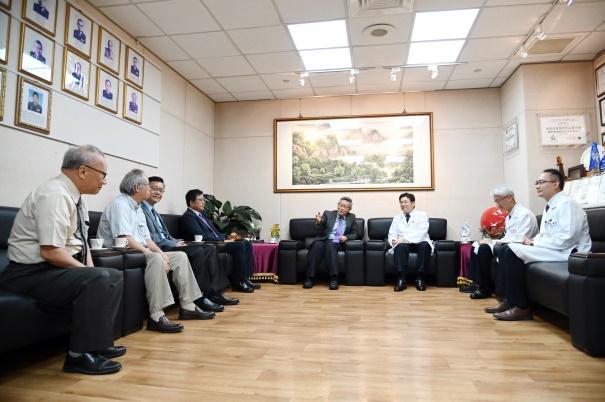 Hocheng introducing the NTHU representatives.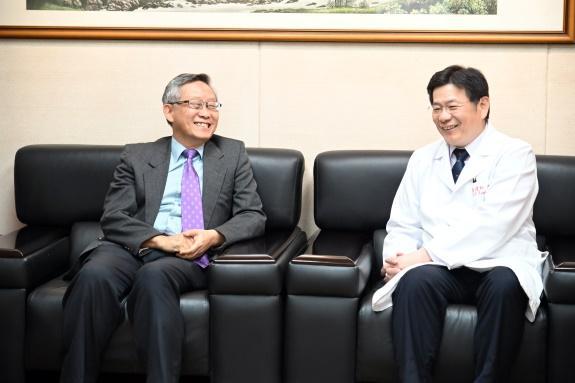 Hocheng (left) and Tsai Chien-Sung discussing the memorandum of cooperation.