Research Team Invents Microwave Coffee Roaster
2020.10.19
A research team let by Prof. Chang Tsun-hsu(張存續) of the Department of Physics has recently invented the world's first coaxial rotary microwave roaster. Chang's device can roast coffee beans in 6 to 8 minutes, compared to 30 to 40 minutes for the gas-powered roasters now in use, thereby reducing energy consumption by one third. The results are so good that even average coffee beans come out with the taste of gourmet coffee, Chang said with a smile.
Chang said their roaster is essentially a combination of the rotary joints used in radar technology and the microwave reaction chamber used by the Chant Oil Company for producing microwave biodiesel.
Lightweight and customizable, their roaster is also well suited for drying other types of beans, as well as fruits and vegetables, and has already been patented in the U.S. and a number of Asian countries.
As for the secret of making coffee beans more fragrant, Chang said that the key is even heating and complete dehydration. He explained that conventional gas roasters often burn the beans on the outside, without getting the center sufficiently hot. By contrast, his roaster heats the beans quickly and evenly by using synchronized rotation and a specially designed electromagnetic field that couples the electromagnetic waves as they penetrate the beans; the result is complete dehydration and a saccharification effect known as the Maillard reaction which makes it possible to precisely control the degree of roasting, thereby accenting the bean's unique flavor without increasing bitterness.
Chang's research was conducted in cooperation with the Chant Oil Company and was supported by a grant from the Ministry of Science and Technology. The initial purpose of the project was to find a way to use microwaves to accelerate the biodiesel reaction, and although they succeeded in increasing the reaction rate by six times, this was much less of an improvement than what they were hoping for. Afterwards, they began to look into other possible applications for their invention, and eventually discovered it is highly suited for roasting coffee beans.
Team member Chao Hsienwen(趙賢文), also an assistant researcher at the Ministry of Science and Technology, said that the two main advantages of their invention are its speed, allowing users to quickly test the flavor, and its light weight, making it suitable for both small and medium-sized coffee roasters; what's more, their roasting technology can be adapted for use in mass production.
Eager to test out the commercial viability of their invention, last year team members Chiu Poyen(邱柏諺) and Kuo Huanchun(郭奐均) set up a coffee roasting company. Both are undergraduates with dual majors: Chiu is a student of the College of Life Science with a sub specialization in chemistry, and Kuo is a student of the College of Science majoring in physics with a sub specialization in power mechanical engineering.
Coffee connoisseurs Chiu and Kuo became acquainted during their freshman year while participating in a student club, and shortly afterwards they set up a coffee stand. They thanked Prof. Chang for his assistance in establishing their coffee roasting company.
Kuo said that his purpose in joining the dual specialty at NTHU was to combine his love of physics with other fields, and that the team's coffee roaster is a good example of the integration of physics and mechanics.
Chiu said that many chemical changes occur during the roasting process, affecting the color, smell, moisture, and size of the coffee beans, all of which affect their flavor, adding his background in chemistry gave him a deeper understanding of how to roast coffee beans in a way that enhances their aroma.
Chiu also said that the roasting process is like an experiment, explaining that it's necessary to repeatedly adjust the temperature and roasting time and observe how it affects the flavor, eventually arriving at a taste which is full-bodied and distinct. His roasting company already has a number of coffee shops amongst its regular clientele, and in the future they plan to begin selling their microwave roasting machines to coffee aficionados who enjoy roasting their beans at home.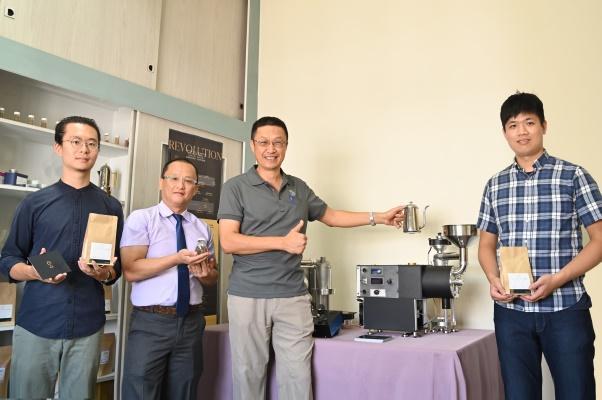 The research team (left to right): Chiu Poyen(邱柏諺), Chao Hsienwen(趙賢文), Chang Tsun-hsu(張存續), and Kuo Huanchun(郭奐均).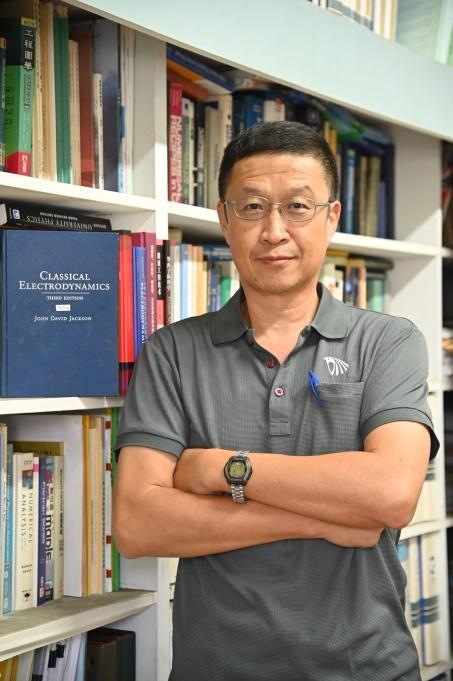 Chang's research team has invented the world's first microwave roaster.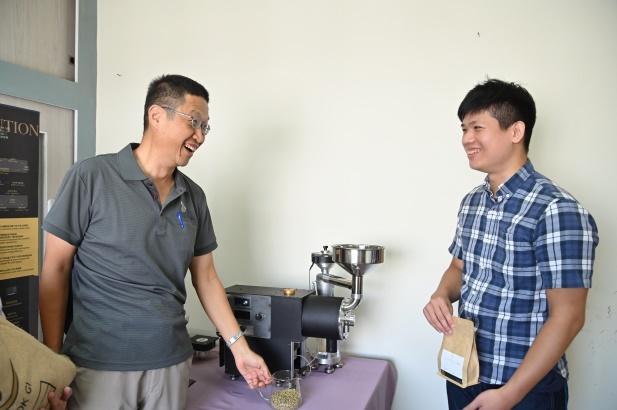 Chang (left) and Kuo discussing how to improve their invention.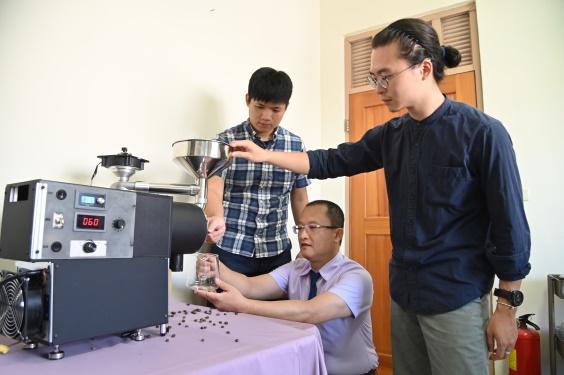 The research team demonstrating their microwave roaster.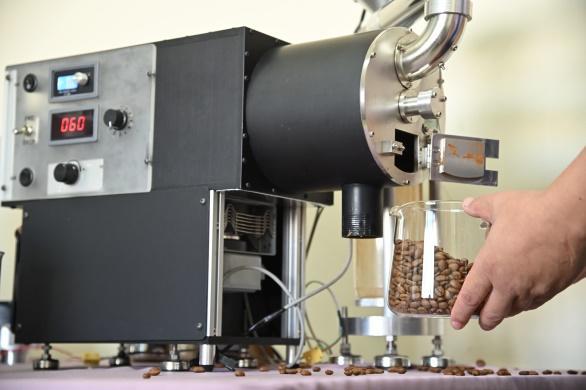 The microwave roaster saves both time and energy.