A NEW Unveils Interdisciplinary Music Program
2020.11.18
Some children are gifted with both academic prowess and musical talent, but by the time they get to high school they usually have to choose between one or the other. Such a difficult choice may no longer be necessary, for next year NTHU's College of Arts is preparing to launch "Music Plus," an interdisciplinary program providing talented students with an opportunity to major in music while doing a second major in such areas as music therapy, artificial intelligence (AI) composition, and music technology.
Breaking new ground
Music Department Chair Chang Fang-yu(張芳宇) said that next year the Department is planning to admit 34 new students according to the standard examination procedures consisting of academic subjects and musical ability. In addition, the Department plans to admit five students to the Music Plus group using an individual application procedure including test results in Chinese, English, and mathematics, as well as an audition and interview.
Chang said that those admitted to the Music Plus program will be required to have a double specialization, one of which is music, and the second one can be chosen from a wide variety of fields, including medicine, computer science, electrical engineering, materials science, management, and preschool education. Both specializations will be specified on their diplomas.
Shifting priorities
Chang said that lots of parents sign their children up for music lessons, but once they reach high-school age they begin to encourage them to focus more on their academic studies, in the belief that music offers little in the way of a good career. She also pointed out that most music programs in Taiwan emphasize performance, but most of their graduates have to settle for a career in music education.
Chang also notes that NTHU already has a lot of musical talent—three Tsinghua students won first prizes in the non-music major section of this year's National Student Music Competition—but after starting university, their musical ambitions soon take a back seat to their academic studies.
Double major to the rescue
Chao Chi-chun(趙繼群), a senior in the Music Department, said that the addition of the Music Plus program will surely be a big help for students grappling with the dilemma of choosing between music and a more conventional career, as he knows from his own experience. Chao began taking violin lessons while in the first grade, but when he entered high school, much to his chagrin, his parents began to pressure him to give up violin and focus on preparing for the university entrance exam. After a good deal of negotiation, they arrive at a compromise, whereby Chao would do a double major in music and chemical engineering.
In addition to playing the violin, Chao also composes music and has done extensive study of vocal music; during school vacations he plays with an ensemble which performs at funeral parlors. He has also composed an orchestral piece that combines the mathematical principles of Pascal's triangle and the eight-part vocal music of Taiwan's Bunun aboriginal tribe.
While backpacking overseas, whenever he told people he met that he was doing a double major in music and chemical engineering, he was routinely rewarded with stares of disbelief. But for Chao, "Knowledge is fluid and not limited to a particular field; doing a double major is like doubling your field of vision."
The soundtrack of the latest Star WarsStar Wars sequel was composed with the assistance of AI, and this is an area in which Chao sees lots of potential. In Chao's estimation, few of the musicians currently using AI have a solid background in classical music, resulting in a sound which is awkward and rigid. Thus he is planning to develop a form of AI music which has more emotional appeal.
Music plus plus
The Tsinghua College undergraduate program accepts students specializing in music, art, and athletics. Tsinghua College senior Li Yuerong specializes in music, and has two sub specializations, one in economics and one in foreign languages. She began taking violin lessons while still in elementary school, but when it came time to apply for university both she and her parents were concerned that majoring in music might not be a sensible career choice. Thus she decided to study music at NTHU while also studying more practical fields.
During high school Li spent all of her spare time practicing the violin, and her interdisciplinary studies at NTHU have kept her equally busy. She expects that the Music Plus program will make things significantly easier for students keen on studying music along with an additional field.
After graduation Li is planning to work in art administration and management. Despite the inherent challenge of studying both music and an additional field, she still encourages incoming students with a background in music to find a way to make music a part of their long-term career strategy.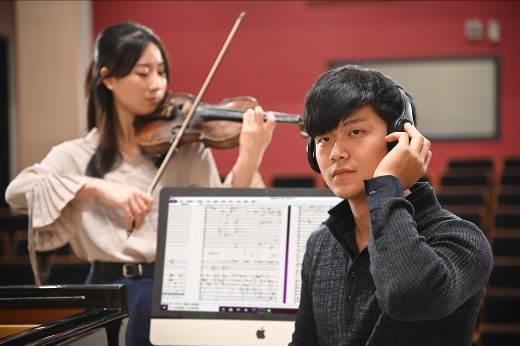 The College of Arts is currently preparing to launch the Music Plus interdisciplinary program.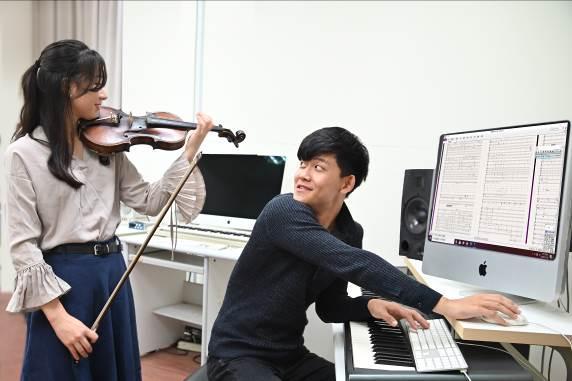 Chao Chi-chun (趙繼群)(right) and Li Yuerong(李悅榮) working on a joint composition.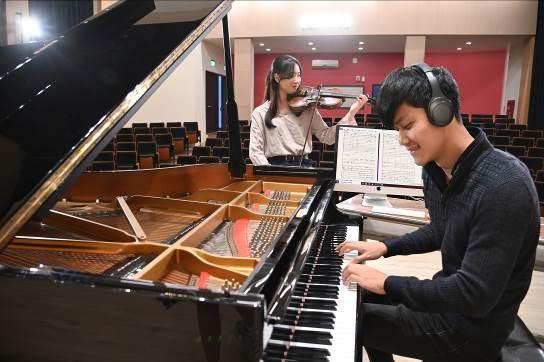 Chao Jiqun (趙繼群)(right) and Li Yuerong (李悅榮)working on a joint composition.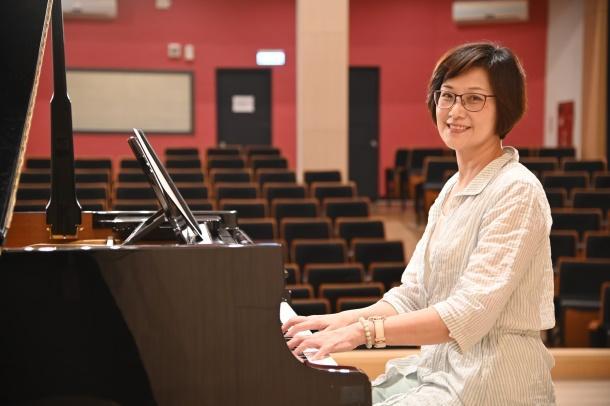 Music Department director Chang Fang-yu(張芳宇) encourages her students to study an additional field.