Joint Tsinghua-Liverpool Research Team Develops Rechargeable Calcium-air Battery
2021.06.10
Due to their high energy density, environmental friendliness, and low cost, metal-air batteries are one of the most promising power sources of the future. A joint Tsinghua-Liverpool research team has recently developed a new type of metal-air electrochemical cell—a rechargeable calcium-air battery - a major stride forward in battery technology.
Their research has been published in the latest issue of Chemical ScienceChemical Science. The first author is Lu Yiting(盧奕廷), a joint Doctoral student at Tsinghua and Liverpool, whose advisors are Prof. Hu Chi-chang(胡啟章) of the Department of Chemical Engineering at NTHU and Prof. Laurence Hardwick of the Department of Chemistry at the University of Liverpool. Also participating in the project was Liverpool postdoctoral researcher Alex Neale.
A major breakthrough in battery storage
Prof. Hu said that the rechargeable lithium-ion batteries currently in widespread use have a limited storage capacity and are liable to explode at high-voltages. Thus lots of researchers are working on developing a better type of battery for use in electric vehicles and for storing the electricity produced by wind turbines and solar panels. Their focus is on metal-air batteries using such materials as zinc, lithium, sodium, potassium, and even calcium, magnesium, and aluminum. The advantage of the calcium-air battery is its high specific energy - five times that of traditional lithium-ion batteries. However, the feasibility of the calcium-air battery has long been hampered by one major drawback—it can't be recharged.
Lu Yiting explained that a metal-air battery is a type of electrochemical cell that uses a relatively active solid state metal as the negative electrode, and a porous carbon material in contact with the air as the positive electrode. When the metal of the negative electrode is oxidized, the oxygen in the positive electrode is reduced, generating an electric current.
After completing his first year of doctoral studies at NTHU, Lu enrolled at the Stephenson Institute for Renewable Energy at the University of Liverpool in September 2018. Under the guidance of Prof. Laurence Hardwick, he began doing research on the electrolyte used in the calcium-air battery.
The first time he went into the laboratory he performed 100 charge and discharge cycles, but the results were completely different from those obtained in the past. Lu found that when a single electrode is repeatedly charged and discharged, in the first two or three cycles it can't accept a charge, but after a few dozen cycles it gradually begins to partially charge and discharge.
Since no one had ever successfully used a calcium-ion electrolyte to charge and discharge a battery, Lu wondered if something went wrong with the experiment, or if he had discovered something new. He immediately informed his advisors, and over the course of the following year the research team conducted a series of experiments aimed at uncovering the mechanism behind this exciting new phenomenon. In seeking a new path on the positive electrode, calcium-ions form a distinctive calcium oxide interface on the surface of the electrode, within which are confined the reduction product of the oxygen, known as superoxide. This allows the battery to be repeatedly oxidized and reduced, so that it can be continuously charged and discharged.
Alex Neale said that by using electrochemical and spectroscopic experiments, they began to understand this surprising storage mechanism which makes it possible to recharge a calcium-air battery.
Hardwick said that the next phase of the team's research focused on designing a battery system which could use this newly discovered charging mechanism. He added that it was the cooperative research model they utilized that made their discovery possible, and that there are plans for even closer cooperation in the future.
Prof. Hu believes that the discovery of this new storage mechanism may generate similar research on other types of metal-air batteries. He said that he is particularly grateful to Taiwan's Ministry of Science and Technology and the UK's Engineering and Physical Sciences Research Council (EPSRC) for their support, and that he is looking forward to seeing the practical application and mass production of calcium-air batteries in the near future.
There's no stopping perseverance
Lu was the first student at Banqiao High School to score a perfect 75 in the university entrance exam. He then entered the Department of Chemical Engineering at NTHU and graduated at the top of his class, whereupon he entered the Tsinghua-Liverpool joint-degree doctoral program, and will graduate in July, at the age of 25.
Hu said that what impressed him most about Lu has been his enthusiasm for research, his perseverance in carrying it out, and his willingness to do basic research, rather than only working on applications. Lu's original plan was to conduct research at Liverpool University for two years, but due to the pandemic he had to return to Taiwan half a year early. In order to continue the unfinished experiment, he spent several months personally looking for a manufacturer to custom make a set of lab equipment similar to what he was using at Liverpool.
Once his lab was up and running, Lu and his associates at Liverpool embarked on what seemed like a non-stop relay race, due to the time difference between Taiwan and the UK. Working round the clock, they managed to complete their research in three months.
Lu thanked both NTHU and Liverpool for providing an abundance of guidance and support. He said that the Department of Chemical Engineering at NTHU emphasizes engineering and practical results, while the Department of Chemistry at Liverpool prioritizes theoretical chemistry and the spirit of inquiry. For Lu, one of the main benefits of doing a dual degree was that it gave him a more comprehensive understanding of his field.
The first ten years of the joint degree program
The Tsinghua-Liverpool joint degree program is now in its tenth year. Vice president for global affairs Yen Ta-jen(嚴大任) said that the program has so far admitted 39 doctoral students, 13 of whom have already graduated. Their research fields include mechanical engineering, chemical engineering, computer science, physics, and economics. Interestingly, the number of doctoral students at Liverpool who have come to Tsinghua is three times the number who have gone in the opposite direction, indicating the excellent research environment at NTHU.
Participating NTHU doctoral students spend the first year studying at NTHU, the second and third years at Liverpool, and then return to Taiwan to complete their dissertation. In addition to a full scholarship covering all tuition fees in Taiwan and the UK, the program also provides a stipend of at least NT$21,000.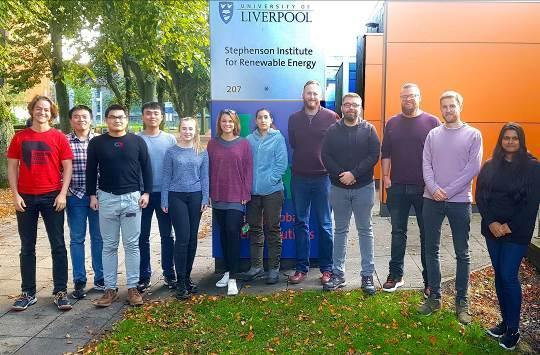 Lu Yiting(盧奕廷) (fourth from left) with the Liverpool research team led by Prof. Laurence Hardwick (fifth from right), including postdoctoral researcher Alex Neale (third from right).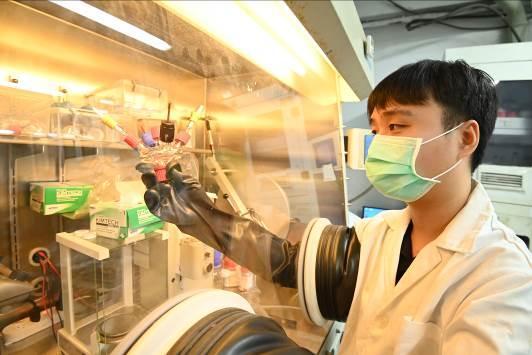 Lu in the lab he set up at NTHU.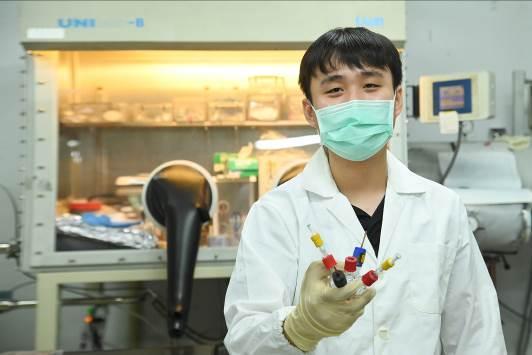 Lu in his lab holding the apparatus he designed for measuring electrochemical reactions.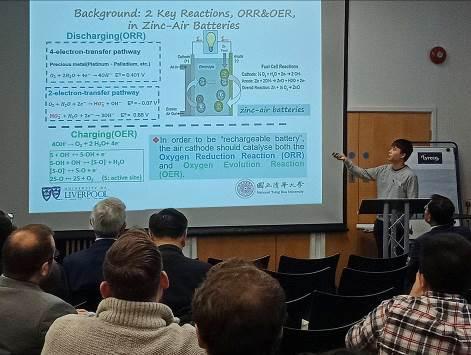 Lu presenting his research results at a Tsinghua-Liverpool joint conference.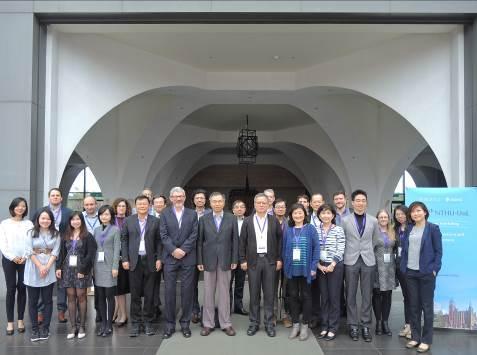 Group photo at the 2018 Tsinghua-Liverpool joint conference held at NTHU.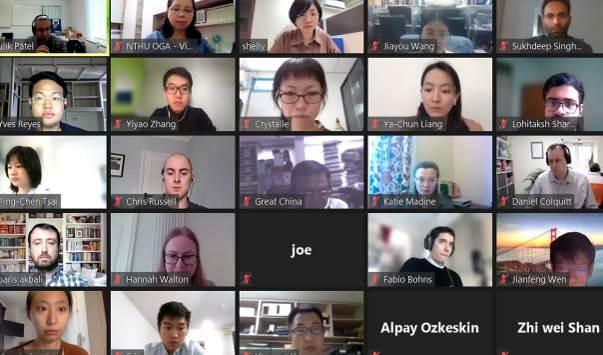 Participants in the Tsinghua-Liverpool joint degree program holding an online conference in May.