UMC Chairman Hung Chia-tsung Awarded Honorary Doctorate in Engineering
2021.09.08
NTHU has recently awarded United Microelectronics Corporation (UMC) chairman Hung Chia-tsung (Stan Hung洪嘉聰) an honorary doctorate in engineering, in recognition of his outstanding contributions to Taiwanese industry and society. In his typically modest manner, Hung attributed his achievements to the far-sighted leadership and significant support NTHU has provided to both UMC and the semiconductor industry as a whole. Honored to have become an official member of the NTHU community, he is looking forward to deepening the cooperation between NTHU and UMC, so that it becomes a model of industry-university cooperation.
Hung also had a special word of thanks for former president Liu Chung-laung(劉炯朗), who nominated him for the honorary doctorate before passing away last year. He said that since 2006 Liu served as an independent director of UMC, in which capacity he played an instrumental role in the company's strategic transformation.
Hung recounted UMC's founding and early growth during the rapid emergence of the semiconductor industry, and its subsequent transformation from a small-scale integrated device manufacturer (IDM) into a wafer subcontractor of international scope. When UMC first went public in 1985, its share capital was NT$800 million, and its market value was NT$1.1 billion. Today, UMC's market value exceeds NT$800 billion.
"Since being established over 40 years ago, UMC has received a huge amount of assistance from NTHU," said Hung, adding that while working at UMC over the past 30 years his company and NTHU have established a strong cooperative relationship, especially in the fields of R&D and smart manufacturing. At present, among the nine members of the company's board of directors, two are NTHU professors, and five of its senior executives are NTHU alumni. Hung is now looking forward to expanding this relationship in the near future.
President Hocheng Hong said that Hung is a fine example of the adage "Actions speak louder than words." For, despite playing a key role in UMC's impressive growth, he's not well known outside the company itself. Thus he is comparable to the plum blossom—NTHU's school flower—which doesn't have an especially eye-catching appearance, but is instead celebrated for its low-key beauty in the form of its delicate shade and distinctive fragrance.
Inasmuch as he identifies with NTHU's values and vision, and has long been quietly supporting the school's development in various ways, Hung has become an enthusiastic supporter of the university said Hocheng. For example, in honor of the late NTHU presidents Liu Chung-laung and Shen Chun-shan(沈君山), Hung assisted in the establishment of the Liu Chung-laung Memorial Hall and the Chun-shan UMC Concert Hall.
"In fact, it was former NTHU president Liu Chung-laung who first nominated Hung for an honorary doctorate," said Chen Lih-juann(陳力俊), chancellor of the University System of Taiwan, extolling Hung for foresight, wisdom, decisiveness, and communication skills, by virtue of which he has helped UMC in reaching new highs in revenue and market value. Indeed, Liu recognized Hung as not only a successful entrepreneur, but also a model citizen enthusiastic about public welfare.
As an example of Hung's low-key philanthropy, Chen recounted how Hung, soon after his son was admitted to the Department of Economics at NTHU, made a donation to the school, requesting that it remain anonymous, since he didn't want his son to know about it. "Hung's wife and son are here today, and while speaking with them I realized that to this day they still had no knowledge of that donation," said Chen, adding that "His son has already graduated and now has a successful career of his own, and he donates a part of his salary to the school every month. As they say, 'Like father, like son!'"
Also attending the conferral ceremony was former minister of Science and Technology Hsu Chueh-min(徐爵民), who said that Hung is widely known as a man of few words, as borne out by his short acceptance speech. Instead of talking a lot, Hung is a man of action. He frequently donates to worthy causes, including the provision of medical supplies to help in the fight against the COVID-19 pandemic. What's more, for many years he has been making significant contributions to a variety of public welfare organizations, including those promoting environmental protection and providing scholarships for young scholars and schoolchildren from disadvantaged families.
Amongst the many prominent guests at the conferral ceremony were distinguished research fellow of Academia Sinica Jane Winshih Liu(張韻詩), president of the NTHU Alumni Association Hsieh Yongfen(謝詠芬), chairman of eMemory Technology Charles Hsu(徐清祥), UMC co-president SC Chien(簡山傑). Also in attendance were a large number of UMC executives and NTHU teachers and students.
In addition to his role as chairman, Hung also serves as UMC's chief strategy officer; he also serves as a trustee for a number of other companies. When Hung joined UMC in 1991 he first served as the manager of the finance department, and was later promoted to the position of senior vice president. In 2008 he became the chairman of UMC, in which capacity he has spearheaded a series of adjustments in the company's business strategy which have transformed UMC into a global leader focusing on special technologies. After first strengthening UMC's financial structure, he shifted his attention to expanding cost-competitive production capacity and adjusting product portfolios; afterwards he began to focus on strategic positioning, technology, production capacity, yield, profitability, and sustainable operations, in each of which he has met with much success.
Despite the exigencies brought about by the pandemic, during the past year and a half Hung has continued to strengthen UMC's competitive advantages by launching innovative services and raising standards. As a result, UMC's share price has recently hit record highs, and its market value has broken the NT$800 billion mark, making it the fifth largest company in the Taiwan stock market.
Hung is the 40th person to receive an honorary doctorate from NTHU since 1996. Previous recipients include Yang Chenning(楊振寧), who won the Nobel Prize in Physics; Lee Yuanche(李遠哲), the former president of Academia Sinica; former TSMC chairman Morris Chang(張忠謀); the internationally renowned animal conservationist Jane Goodall(珍古德); and Perng Fainan(彭淮南), the former governor of the Central Bank.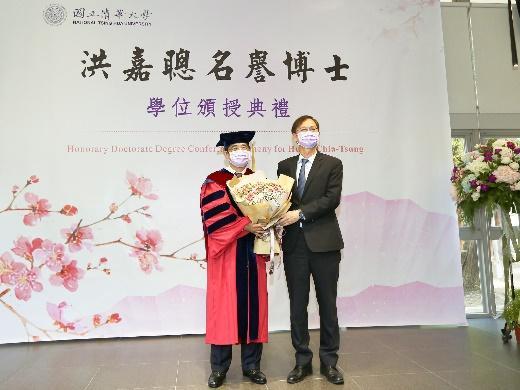 UMC co-president S.C. Chien (簡山傑)presenting Hung with a bouquet of flowers from his colleagues.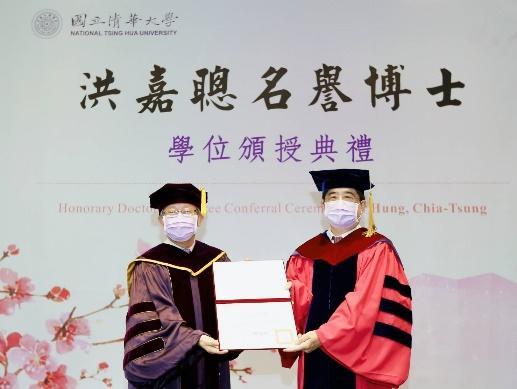 NTHU president Hocheng Hong (left) presenting an honorary doctorate diploma in engineering to Hung Chia-tsung.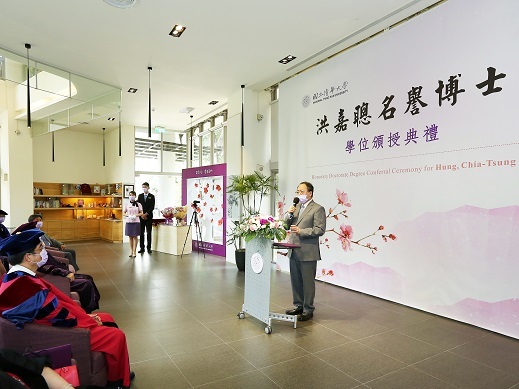 Chen Lih-juann(陳力俊), chancellor of the University System of Taiwan, said that Hung has contributed to NTHU in many ways.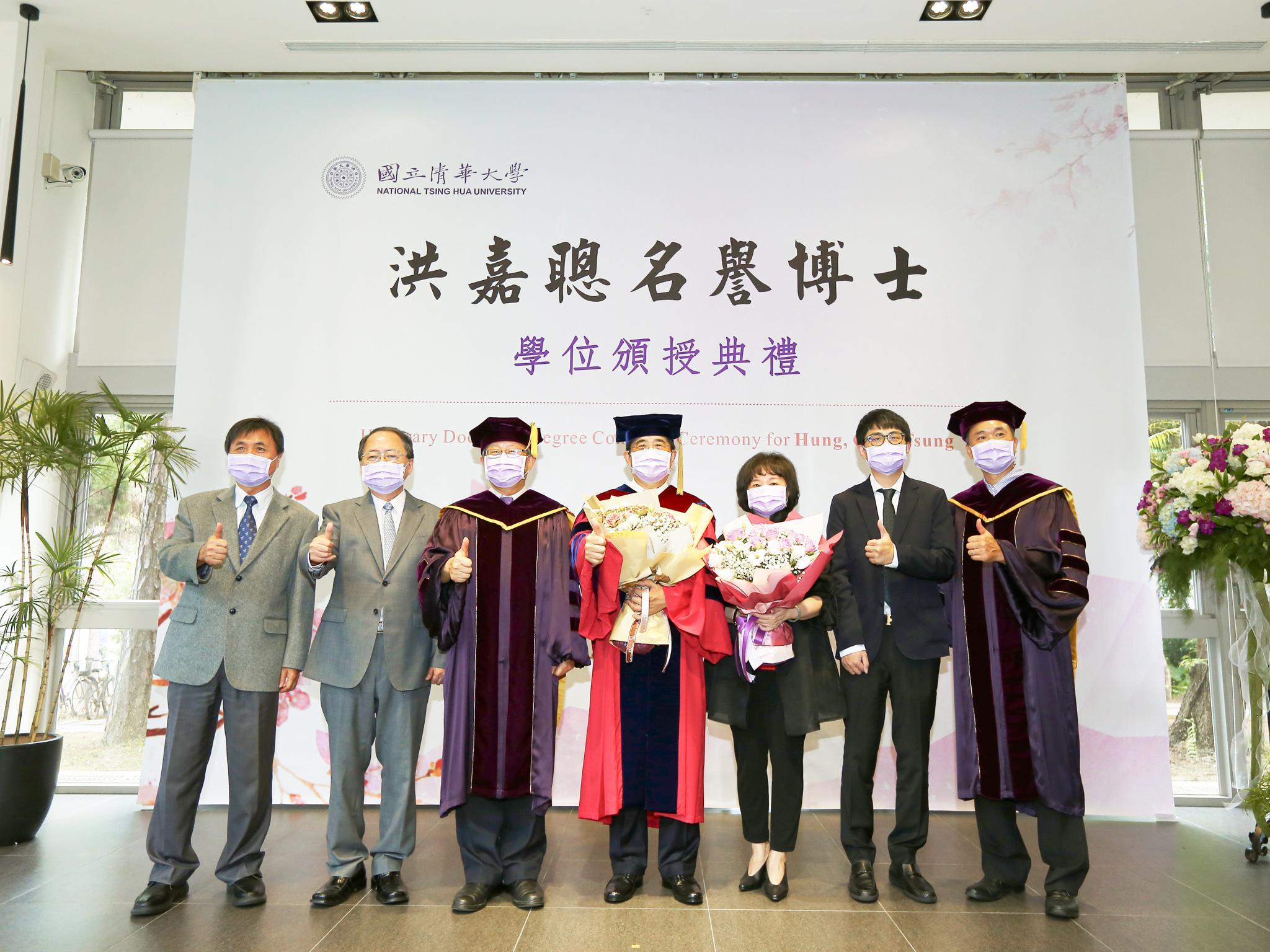 At the conferral ceremony (left to right): former minister of Science and Technology Hsu Chueh-min (徐爵民); Chen Lih-juann(陳力俊), chancellor of the University System of Taiwan; NTHU president Hocheng Hong; Hung Chia-tsung(洪嘉聰); Mrs. Hung Chia-tsung(洪嘉聰夫人); Hung Chia-tsung's son(洪嘉聰公子); and Fred Huang(黃能富), dean of the College of Electrical Engineering and Computer Science.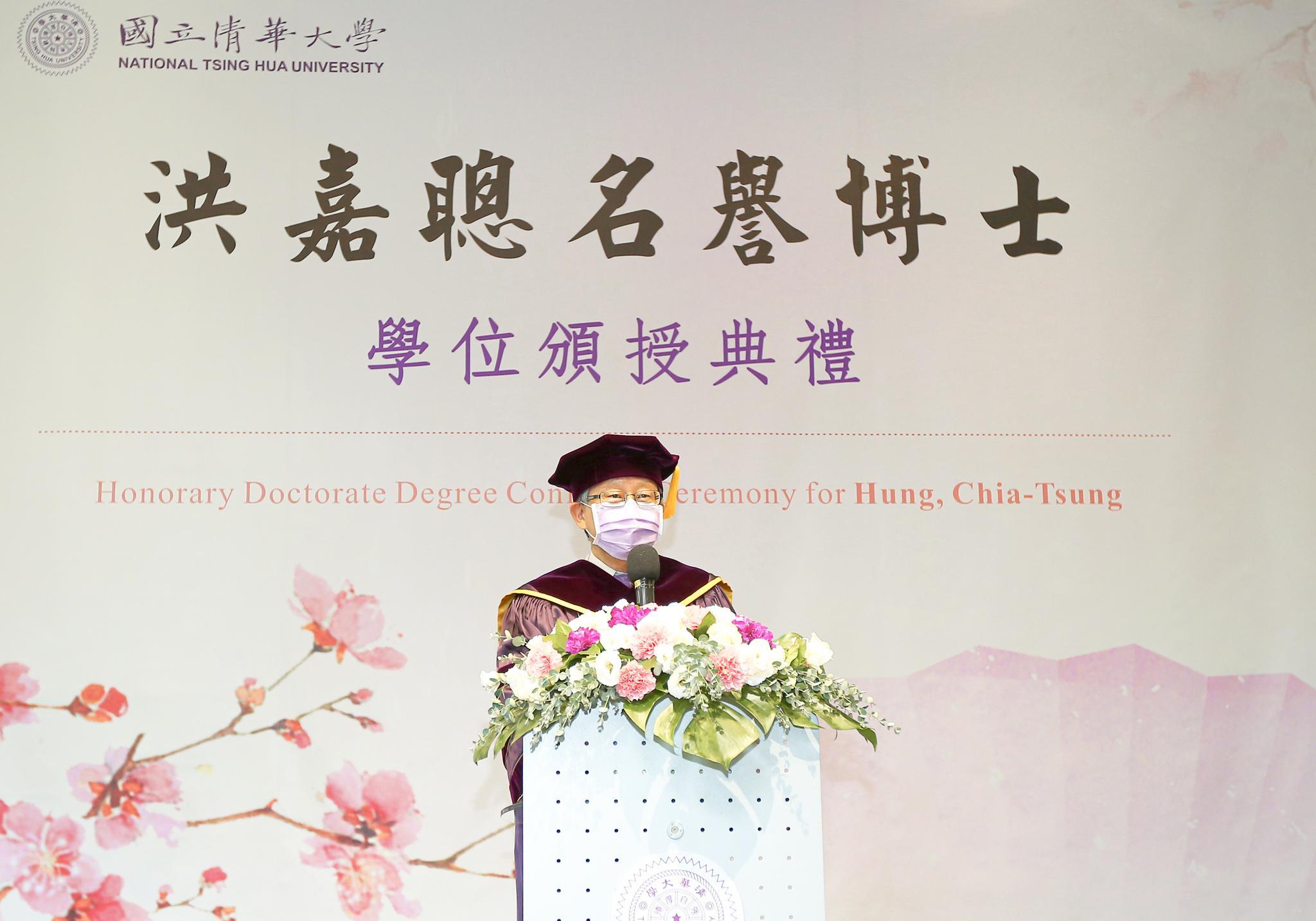 In his speech, President Hocheng said that Hung has long been "a kindred spirit of NTHU."